Our first block-based coding program for children as young as five
What is MartyBlocks Jr?
Based on ScratchJr, we developed an introductory programming language which uses Marty the Robot to enable young children (aged 5-7) to develop their computational thinking. Similarly to MartyBlocks (which is based on Scratch and aimed at children aged 8+), children can create interactive stories and games and learn through play. But (and here's the kicker!) MartyBlocks Jr has been created to cater for younger children, pre-readers specifically, and the features have been carefully crafted to match their cognitive, personal, social and emotional development. 
Children can drag-and-drop and snap together colorful programming blocks to make their Marty sprite move and make noises. In addition (and perhaps most importantly) children can connect their physical Marty the Robot to the app so Marty can come to life both on and off the screen! MartyBlocks Jr differs from any other introductory platform in that you see your Marty sprite from a bird's eye view, with motion blocks mimicking Marty's movements in the real world.
What Will Children Learn with MartyBlocks Jr?
Learning to code from a young age can help set up children for success. MartyBlocks Jr gives young children the opportunity to express their creative side on a device and using a robot. 
Coding not only helps improve computational thinking but can vastly improve numerous skills, including mathematical and writing skills, along with valuable communication skills in life and the 21st century workplace. Teaching these skills through the app can help motivate children as they are learning through "play" within a meaningful, engaging context. 
At Robotical, our goal is for coding to be accessible and exciting for everyone, no matter their age, gender or location. MartyBlocks Jr was developed as a simplified version of the MartyBlocks platform, creating a learning ladder. So younger children can also learn these vital skills, even before they are able to read. 
How Does MartyBlocks Jr Work?
Connect to Marty the Robot:
Learners can practice their programming using MartyBlocks Jr in the app both with or without a physical Marty. If you have a Marty, the connection process is super easy, and Marty can be connected by one click of a button. Once connected you can help Marty come to life, creating a fun sequence which physical Marty will complete alongside on-screen Marty! 
Don't have a Marty yet? That's okay, there are loads of ways to enjoy programming and Marty's unique personality through the Marty sprite and app alone!

Snap Together Colorful Coding Blocks:
Similar to MartyBlocks (and the well known block-based programs Scratch and Blockly), children are introduced to programming through a "drag and drop" approach. However, instead of text blocks children will combine icon blocks to create a sequence of actions. Using images reduces the number of obstacles children face when programming, allowing younger children to join in the fun with fewer difficulties.  

There are various blocks used in MartyBlocks Jr, easily recognised and categorised by their bright vibrant colors. 
In blue we have the Motion Blocks. These blocks can be used to help Marty get ready, move forward, backward, left, right, turn and even dance! 
These blocks give children the opportunity to improve their mathematical and problem-solving skills as there is an option to alter the number of steps Marty will take to complete an action!
For example, to make Marty turn in a full circle to the right, you can change the number to 20.

The purple blocks (also known as the Emotion Blocks) can be used to give Marty some expression. There are five different eyebrow blocks which highlight Marty's excitement, anger, curiosity and amusement. You can even help Marty say "hello" or "goodbye" with the wave blocks!
The six different Sound Blocks (found in green) are another brilliant way to show Marty's emotions. Children can add these to their sequence to help Marty show their excitement, confusion and disbelief. Marty can also be programmed to say "no!", "no way!" and even whistle.
The orange blocks can also be added to a sequence and are used to pause, stop or repeat part of the sequence. In order to start and finish a sequence, learners will need to use a start and stop command which can be found in yellow (start block) and red (end or repeat forever).
Get creative with the Paint Editor:
Children can bring out their inner artist and use the paint editor tool to add some originality to their Marty sprite. Learners can use this tool in any way they desire. So, try it out and add some color to your Robot – why not try a pink, green or even a rainbow Marty! If you're feeling really creative, you can treat Marty to some new accessories and give them some headphones and in winter you could even add a hat! 
After all the drawing you may feel that your new unique Marty needs a new name. So why not change Marty's name on the app to suit their new look, selecting a name of your choosing!
Your creative side doesn't have to end there! The paint editor tool can also be used on the surfaces. Let your imagination run wild and add some trees, give Marty a house or even some new robot friends! 
Who knows, maybe on Marty's next mission to Mars they may encounter a Martian!
What are you waiting for? Try MartyBlocks Jr Today! 
(Available for download on all IOS and android devices)
Want to learn more? Join us for a fun-filled webinar on October 6th 4PM BST, where you can learn more about MartyBlcoks Jr and watch a real-time live demo of Marty!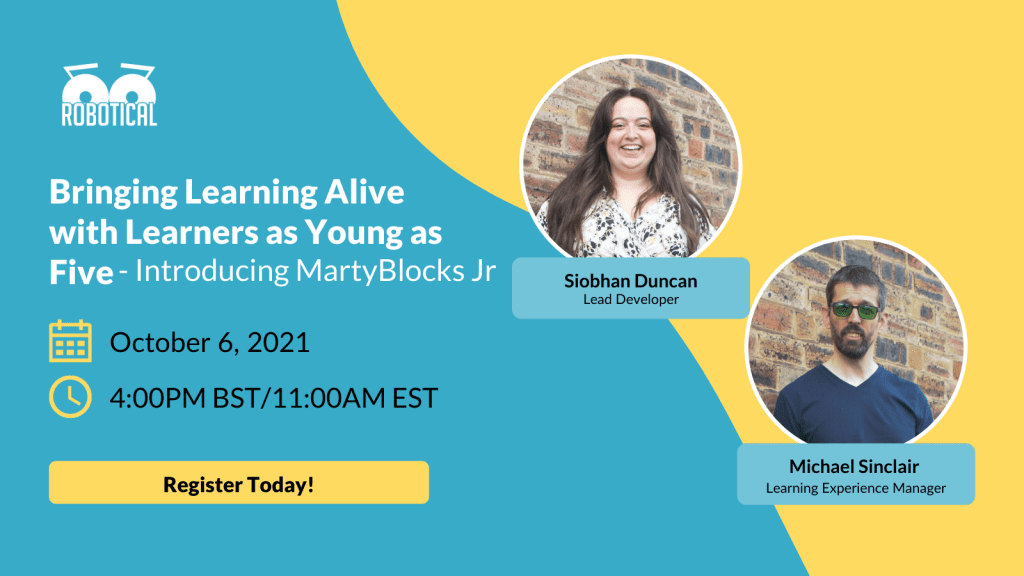 If you have additional MartyBlocks Jr questions or would like to schedule a free trial, contact Robotical today.