Say hello to Marty's new drag-and-drop sound blocks. This latest addition to the MartyBlocks coding environment allows you to get creative with your Marty to make a song, record a voice and bring even more life to your classroom learning.
Why Have We Developed New Sounds?
For those who haven't been introduced to Marty yet, Marty the Robot is a real humanoid robot with a HUGE personality. Marty can walk, dance, eyebrow-wiggle and can even join you on the pitch to kick a ball or two. And he's just getting better! Now, with this new and improved sound functionality, Marty's big personality is getting even bigger.
Why use a humanoid robot in the classroom? Humanoid robots introduce new skills and topics to students in a fun and engaging way. By learning by play, humanoids can help to develop problem-solving and analytical skills and will build students' confidence, especially among those struggling.
What Does This Bring to the Classroom?
A vast library of sounds:
We have expanded our sound library to give even more expression to your Marty the Robot. Within the app, you can find a massive selection of sounds – from wacky wobbles and whizzes to a sheep's baa and a dog's bark! Marty can even join you to support your favourite team with a winning cheer.

Increased control with 'set pitch' and 'set volume' blocks:
We have also added new pitch and volume blocks to Marty's sound selection, allowing your students to get more technical with their robots. Why not challenge students to hit the perfect high note or pass on a secret message with a whisper?

New recording feature:
Did we mention that on top of our massive library of pre-recorded sounds, you now have the ability to record your own sound? So, get ready for a classroom filled with copycat robots!

The capability to alter Marty's tone, voice and accent:
With Marty's new speech blocks, coders can adjust Marty's tone of voice to match any classroom atmosphere. Whether that's a giant voice to express that Friday feeling or a tiny squeak for those early Monday mornings.
On top of that, coders can now adjust Marty's accent with our brand-new library, filled with countless accents from across the globe.  From flawless French to incredible Italian, this new functionality is sure to get your kids excited!
Ability to play notes and music through Marty:
With this new functionality, Marty can hit both high notes and low notes. What's more, Marty can play a huge variety of instruments, from an electric guitar and saxophone, all the way to a ukulele!
This addition is a fantastic opportunity for you and your class to get creative with your robots. Allowing you to expand your cross-curricular lessons, elevate students' knowledge and will certainly add the 'A' to STEAM learning.
So, get ready to unleash Marty's musical talent to create a classroom orchestra, a groovy band or to spread the festive cheer with some Christmas tunes.
Here's an example code for Marty playing Jingle Bells: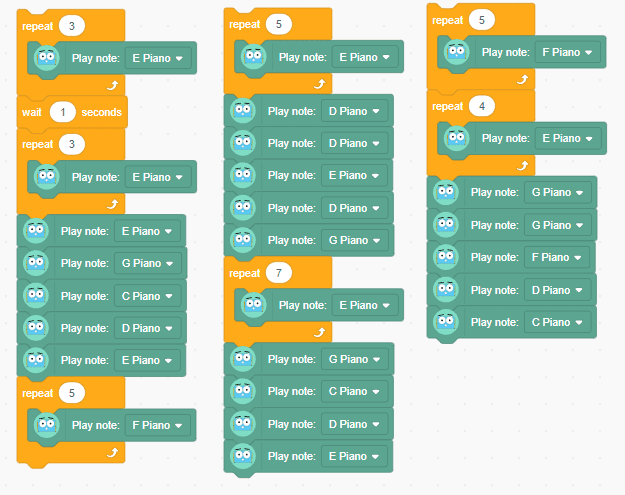 Watch Marty 'sing' Jingle Bells (with a little bit of added flair!):
Want to try Marty's new sounds but don't have a Marty? We are currently offering FREE two-week trials with Marty the Robot. We will even cover shipping and return costs and provide virtual training – a risk-free way to try Marty in the classroom.
Already own a Marty? Upgrade your Marty and start using the new sound functionality today!