Want something different?
If you want a different number of Martys, want (some of) them as kits to build, or you need a quote/invoice to buy, please get in touch at hello@robotical.io
How does Marty the Robot work in a class or code club?
Marty is programmed over WiFi, so you can have as many robots as you like connected and running in your class or club. The education packs come with a command hub which generates its own WiFi network and runs a version of Scratch, to help you get Marty up and running without requiring school WiFi or internet access
You'll also get two half-hour video support sessions to make sure you get up and running ok, and answer any questions you have about Marty. You can still e-mail us as much as you like though if you have any more questions!
This 10 Pack of Martys for Educators includes:-
Marty's patent-pending walking mechanism gives him a unique walk. Walk, dance, turn, kick... It's easy to make your own movements!
Start coding Marty over WiFi using Scratch, developed by MIT for 8-16 year olds. Then move into real world languages like Python and Javascript
You can add extra sensors or even a Raspberry Pi to get Marty to do more advanced activities. You can also 3D print extra parts for your Marty - why not give him a hat or a backpack?
"Marty has been a head turner with students! He works really well across all of the age groups at GoCode. The younger kids love his human features and are able to use Scratch to get up and running with Marty quickly. For the older kids they're able to explore coding in more detail by moving onto Python and see the physical connection between hardware and software."
Rushil Shah, COO at GoCode Academy
"Having something physical to move, away from a computer screen, helps pupils better understand what happens when they input certain commands. It moves the lessons from theoretical to practical and pupils can see the interaction between software and hardware. Marty is cute and engaging which makes it easy to introduce him in the classroom. But he also demonstrates how coding can be applied in the real world as he can interact with his surroundings."
Jonathan Baxter, Depute Head at The Flora Stevenson Primary School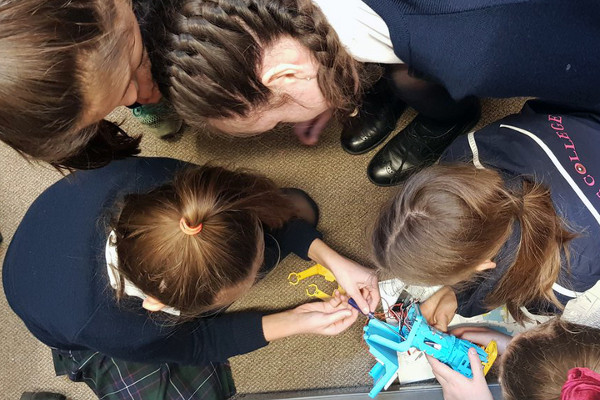 "Playing and learning with Marty has been great fun, and it definitely has taught me a lot about engineering and computer programming which will help me in my future career. I definitely want to do engineering at university, and Marty has just made me more determined to make this happen. I have even taught Marty to feed my dog, so I'm wondering what other household chores he could help me with, maybe he could tidy my room or wash the dishes?! "
Iona, 15 years old
Marty in class
You can use Marty as an introduction to programming, or to bring advanced concepts to life. In the workshops we run with Marty, we often start by getting the students to teach Marty to walk, using a special version of the Scratch interface with the "walk" block taken out. Later on we build in sensors and getting Marty to react and solve a basic obstacle course. We've also had teachers run dance competitions with Marty
For more ideas and information, check out the educator's guide for Marty
Getting up and running
We're here to help. After you buy a class pack you can get in touch to schedule your half-hour video call with us where we can answer any questions you have, and make sure you get up and running ok and get the most out of your Martys. Once you've been working with Marty for a while you can have your second video call to help you do more with Marty
Marty's Tech Specs
Number of motors

9 - six in the legs, one per arm, and one for the eyebrows
Includes four high torque metal geared servo motors and five plastic geared ones

Customisablity

Stickers included for quick customisation
Extra sensors/motors can be added
Easily expanded with an onboard Raspberry Pi, then add a camera, microphone, etc.
All parts are 3D printable, so you can fully customise them

Sensors

3-axis accelerometer - including tilt sensing
Motor current sensing - can tell how hard the joints are working, and detect interactions like you touching his arm
Two bump sensors included - can detect floor contact, feet hitting obstacles, or be used as inputs
Add a Raspberry Pi to be able to add camera and/or microphone

Connectivity
Software

All software is free and open source
Interfaces for Scratch, Python, Javascript
ROS (Robot Operating System) with Raspberry Pi

Assembly

This pack contains pre-assembled robots

Multiple Robots

Get as many Martys as you want on the same WiFi network.
Good for classes, football, and synchronised dances

Sound

Onboard buzzer for beeping

Battery Life

Rechargeable 1400mAh Lithium battery and charger included
1.5-2 hours on a charge
On board battery recharging using supplied USB cable
If you've got any questions about Marty please drop us a line at hello@robotical.io