Try some blocks
Now that we're up and running, it's time to have a play around!
Scratch is great because you can program just by clicking and dragging blocks to form programs.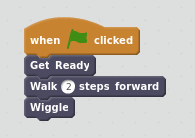 The Get Ready block turns on Marty's motors, returns Marty to a normal standing position and does a little eyebrow wiggle.
The walk blocks will make Marty walk, and the wiggle block will make Marty wiggle. It's all terribly complicated

There are a few things to remember about Marty though:
Marty's motors are turned off by default. Before you can send move commands you'll need to enabled them. That's done either by using the Get Ready block (which'll also get Marty standing straight and wiggle his eyebrows), or using the Enable motors block (which will just get the motors ready to receive instructions)

Marty has a few safety features to protect him from harm. These include Fall Protection and Motor Protection:

Fall Protection: If Marty thinks he's falling over, he'll turn off his motors
Motor Protection: If there's too much load on a motor, that motor will turn off

If your Marty ever refuses to do what you want - it might be that he's trying to protect his motors! Both of these safety features can be turned off, but we'll get to that later…

Marty likes to be comfortable. At the end of a script, he might adjust his position a bit to take the load off his motors - otherwise he'll get tired. He also gets bored, and every minute or so he might do a little movement.
So, give it a go! Drag some blocks out and run them (Use an Event block, or just double click them) to get Marty to move!